U.S. embargo and sanctions are designed to cause economic crisis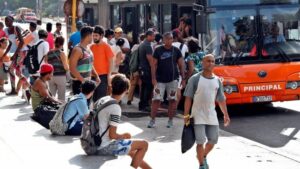 For 60 years, the United States has maintained an economic, commercial and financial embargo (also commonly referred to as a "blockade") against Cuba.  The embargo's explicit purpose – as stated by a secret State Department

memorandum

in 1960 – is to "to bring about hunger, desperation and overthrow of government."  The United Nations has

called out

the embargo by noting "the restrictions imposed [] help to deprive Cuba of vital access to medicines, new scientific and medical technology, food, chemical water treatment and electricity."

Under the Trump administration, 243 additional sanctions and measures were implemented against Cuba, including in the context of the pandemic. These measures

include

"

trade control, suspension of aid and technical assistance, freezing of the target's financial assets, and the blacklisting of foreign companies involved in trade with Cuba."

The inevitable and intended result has been shortages of food, fuel, basic goods and medical supplies. 

Calls

by the United States to other countries to refuse medical brigades of Cuban doctors impeded Cuba's COVID-19 global response, as well as interfered with an important source of income for the country that had helped to offset the impact of sanctions, as noted by a United Nations independent expert.

In 2020, President Trump

severely restricted

the possibility for most Cuban-Americans to send remittances to family members in Cuba, a significant source of income for many Cubans. In 2018, remittances

totaled

$3.7 billion. By adding FINCIMEX, a Cuban financial institution, to the Restricted List, international remittance services, including Western Union, halted all services to Cuba.  

Weeks before the Trump presidency ended, the State Department designated Cuba a state-sponsor of terrorism, placing it on a list that it had been removed from under President Obama.  Adding Cuba back to the list means that third-party countries, businesses and institutions have been unable to engage in trade with Cuba without facing risk of serious sanctions by the United States.

Under Trump, the

Restricted List

exponentially grew to now include over 200 Cuban entities.  

The international community, including international non-governmental organizations, has long

called out

the illegality and immorality of the embargo. In addition, for 29 consecutive years, member states of the United Nations have, in a near unanimous vote, condemned the embargo. In 2021 the only support for the embargo came from the United States and Israel.

"Sanctions make it harder for entire populations to stay healthy and hamper the transportation of goods needed for economic development, result in the waste of natural resources, undermine environmental sustainability and achievement of the Sustainable Development Goals,"

UN human rights experts said

in August 2021. "Activities essential to every country's development suffer when unilateral sanctions are imposed." The experts said people in targeted countries like Venezuela, Cuba, Syria and Iran sink into poverty because they cannot get essential services like electricity, housing, water, gas and fuel, let alone medicine and food.
US sanctions affect access to medicines, equipment and Cuba's pandemic response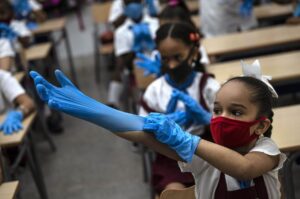 US sanctions affect food shortages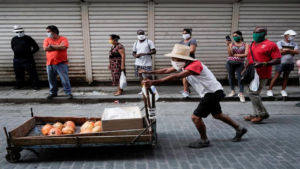 Cuba imports 70% of its food, and throughout the pandemic, the country has experienced severe food shortages.  

The lack of tourist income for the country as a result of public safety measures taken to reduce the exposure to COVID-19, combined with the virtual elimination of remittances by Trump, have significantly

hampered

Cuba's ability to generate sufficient income to purchase the food it needs to feed its citizens.

In March 2020, UN Special Rapporteur on the Right to Food

said

that sanctions against Cuba "

severely undermine[] the ordinary citizens' fundamental right to sufficient and adequate food" and that "it is now a matter of humanitarian and practical urgency to lift unilateral economic sanctions immediately."
Misinformation, disinformation, inaccurate and misleading information have historically been fomented, financed, orchestrated, written, coordinated and disseminated by U.S.-funded institutions, actors and organizations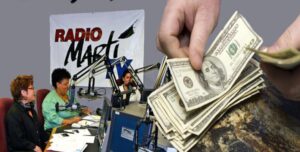 Every year, the U.S. authorizes

at least $20 million

, primarily through the U.S. Agency for International Development (USAID), to individuals, groups and organizations based in Florida and Cuba for "democracy activities," which overwhelmingly concentrate on media outlets, including television, radio and social media outlets that are hostile to the Cuban government.

Every year the U.S. also spends about $28 million for the Office of Cuba Broadcasting, which runs Radio & TV Martí, and has 117 employees. These stations, which are barely heard in Cuba because of government blocking, have become merely a cash cow for its managers and staff in Florida

While the Biden administration is investigating ways to expand internet access in Cuba, the embargo currently affects the ability of Cuban citizens and tourists, including U.S. citizens or residents, to access nearly 50

platforms, websites and social media

applications.  These sites include broadly accessed ones like Zoom, Snapchat and at least 20 Google platforms.

Cuban medical personnel have

denounced

the Biden administration's campaigns of misinformation about its medical system, vaccines and COVID-19 response, as well as its utter disrespect for the work of front-line health care workers in Cuba and abroad.